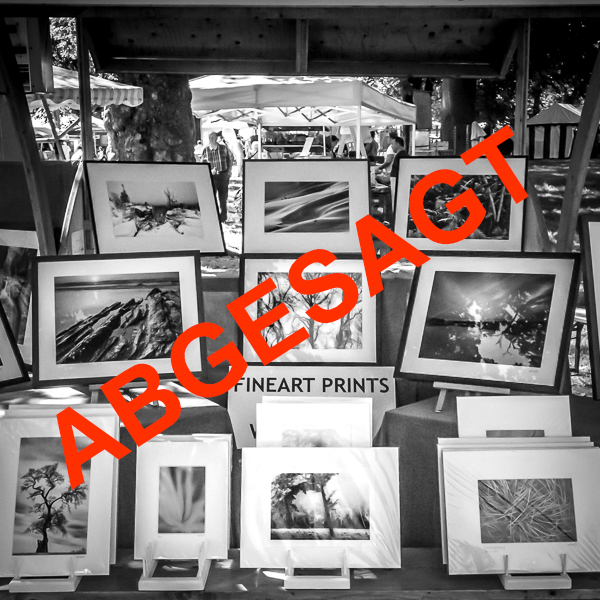 Vor ein paar Tagen ist eine eMail mit der Nachricht, dass das heurige Fest der Natur im Volksgarten am Sa 25.6.2022 kurzfristig abgesagt worden ist, im elektronischen Postfach gelandet. Die Gründe wie es zu dieser doch etwas kurzfristigen Absage gekommen war, sind um es mal Vorsichtig zu sagen etwas seltsam.
Somit gibt es selbstredend keinen Stand mit meinen Photographien im Volksgarten am 25.6.2022. Kurz hatte ich darüber nachgedacht mit meinem Stand vom Fest der Natur zum Ufern - Donau Strand Fest in Linz-Urfahr, das ja ebenfalls am Sa 25.6.2022 stattfindet, zu übersiedeln.
Statt dessen bin ich zu der Überzeugung gekommen, dass es sinnvoller ist unserer Galerie am Tummelplatz einen weiteren geöffneten Samstag zu bescheren. Ihr findet mich und meine Photographien daher kommenden Sa 25.6.2022 in unserer Galerieam Tummelplatz.
Neben meinen Arbeiten könnt Ihr natürlich auch die gerade laufende Ausstellung "Wächter der Wachau" von Josef Pegler in der Galerie am Tummelplatz bewundern.
Ich freue mich auf Euren Besuch kommenden Sa 25.6.2022 zwischen 10:30 - 16:00 Uhr in der Galerie.


---

engl.
A few days ago, an e-mail landed in my inbox with the message that this year's "Fest der Natur" in the Volksgarten in Linz on Sat 25.6.2022 had been canceled at short notice. The reasons for this somewhat short-term cancellation are a bit strange, to say at least. So of course there is no stand with my photographs in the Volksgarten on june 25th, 2022. For a moment I thought moving my stand from the festival of nature to the "Ufern - Donau Strand Fest" in Linz-Urfahr, which also takes place on sat 25.6.2022.
Instead, I've come to the conclusion that it makes more sense to give our gallery at Tummelplatz another open saturday. You will find me and my photographs in our gallery at Tummelplatz next saturday, june 25th, 2022.
In addition to my work, you can of course also visit the current exhibition "Wächter der Wachau" by Josef Pegler there. I look forward to your visit next saturday, june 25th, 2022 between 10:30 a.m. and 4:00 p.m. at the gallery.
Tummelplatz Galerie
Tummelplatz 4, 4020 Linz
www.tummelplatzgalerie.com